This pandemic has been a tsunami to the event world, wiping out almost everything in its path. As the tide settles, we begin to pick up the pieces and rebuild our amazing industry. In doing this, we look forward and try to look only at the light, avoiding the peripheral. However, it doesn't mean the peripheral is not there. One of the hardships we notice in this rubble is a floral shortage. Flowers are just not as readily available and are more expensive than usual. For this blog, we sat down with Rheana Coon, owner/ event florist/ designer at Design Mode to get firsthand experience and advice on how to handle this shortage.

Design with Vibes & Flexibility
The best advice and tip moving forward in this floral shortage is to design with a style page and color scheme, without too many specifics. Rheana emphasizes, "Give your florist a style or flavor, and color palette and let them get the best product they can for you with what is available at that time. Let the pros do their job and be creative with the product they can get their hands on." It's time to let go and trust in your designer! In fact, when clients allow us to work in themes and vibes, not constricted to a box, we become more creative, benefiting the event. Also, who doesn't love a good onsite surprise! I know this is making all the 'clipboard clients' clutch their pearls….

Budget Increase
This is one of the most feared concepts for a client! But, if you must have certain flowers, and the above option is not really an option for you, then some things have to give, and that something is the budget. With lack of product mixed with an influx in social gatherings, supply does not meet demand and therefore prices are skyrocketing. Rheana states, "I have definitely seen that roses are affected, and I've noticed a big increase in cost on ranunculus & anemones, and tulips seem to be fewer and farther between, which is normally a staple and one of the tried-and-true, easy-to-get flowers."
She also noted large cities seem to stay relatively consistent with little increase while smaller cities are being hit the hardest. In fact, in her Facebook florist group, the mom-and-pop shops in the middle of the country have stated they are struggling to get any product at all. Keep in mind, raising prices right now could also be them operating in survival mode.
Design without Flowers
Another tip of ours is to design without flowers. WHAT???!!! I know, seems daunting and against everything we hold to be true and right with this world. However, it can be done! In fact, we have done events with minimal to no floral for centerpieces and the feedback was great. Guests are always expecting flowers and when they don't get the expected, it's a nice shock to the system. It breaks the monotony and creates something they haven't seen. For our below 'Glow Party,' not one flower was used, and the guests still had an amazing time… I mean, how could you not with a glow rubber ducky as a centerpiece? Similarly, in the below 'Game Night' event, minimal floral was used and was replaced with just the right amount of kitsch.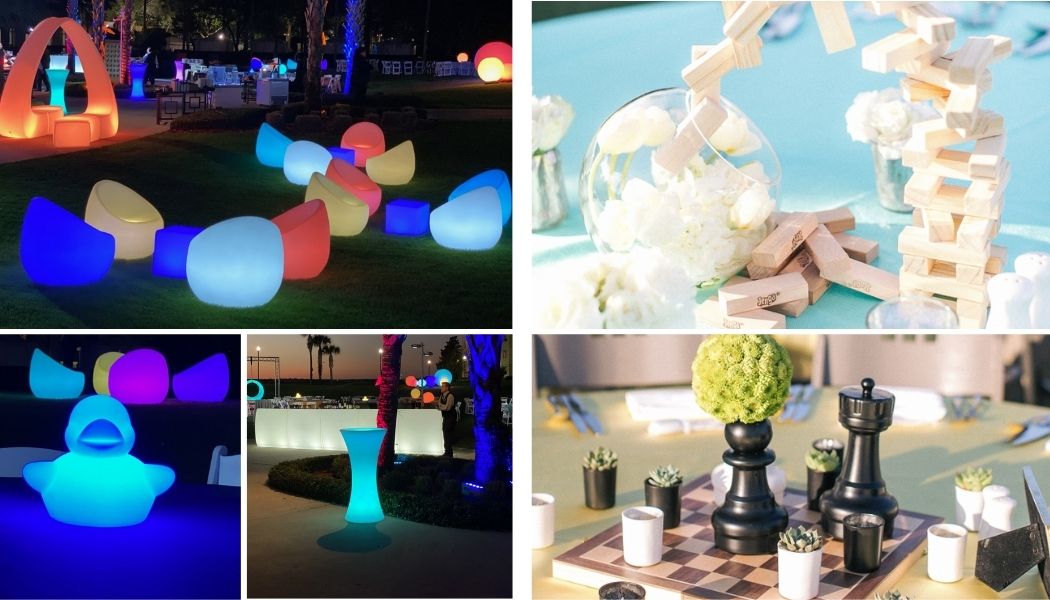 When it will end
In conclusion, there will be slight adjustments to event planning coming out of a global pandemic… DUH. Not to worry though, it's only temporary. In fact, Rheana says the flower shortage will hopefully only last until the beginning of 2022, which in the scheme of things is not that far away considering we all survived a year and a half of quarantine! In the meantime, don't forget to stop and smell the roses… if you can find them.